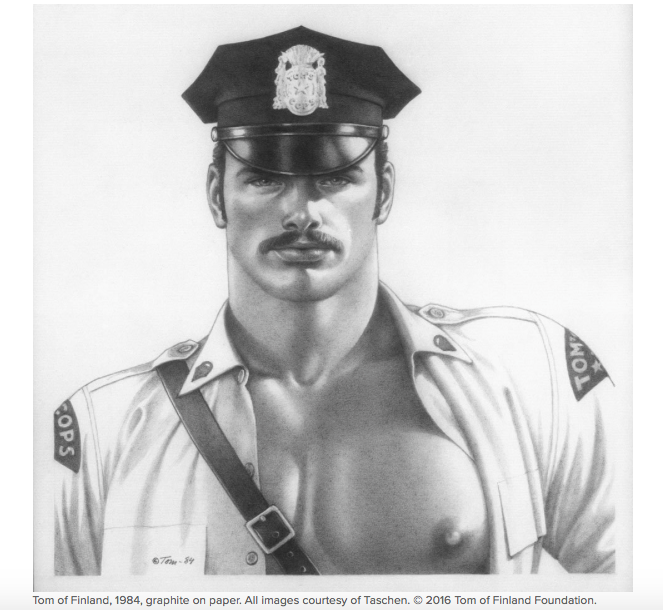 Police violence has been getting a lot of press recently, what with the tendency of police officers in our charming U.S. of A. to be white men equipped with fragile egos guarded by bony husks of socialized hypermasculinity who use state power and munitions to maintain white male supremacy, particularly by killing black men and women, but also through rape and generalized bullying, all in the name of "serving" and "protecting" the American public. I have heard, for example, that police officers' well-funded racist and sexist violence is not that great. That it may be something we, as a culture, are morally obligated to repudiate and correct. Police violence being "BAD" is a concept oft-enough cited that it has, wonder of wonders, begun to gain some purchase in the collective consciousness.
What one hears less about these days is just how "SEXY" police violence can be.
Luckily for all those absent-minded social justice types who may have been on the brink of forgetting the undeniable, timeless allure of a cop wielding his immense and ropily veined penis like a baton – or taser, perhaps? – in preparation to discipline some naughty, naughty prisoners, Paris Review has come to the rescue with a delectable reminder.
The article "Doing Hard Time" (hard, you know? like the penis of a sexually aroused male? got it? good) is a bite-sized panegyric to the cop-themed output of the artist known as Tom of Finland, as compiled in The Little Book of Tom of Finland: Cops & Robbers, an anthology promising lucky readers "nearly two hundred pages of…police-on-felon fucking."
Consensual police-on-felon fucking, of course. Which is entirely different from the non-consensual police-on-felon fucking that has, sadly enough, imperiled the Sexiness Rating of police-on-felon fucking of late. Continue reading "Police Violence: Cool, So Long As It's Queer, Sexy" →